---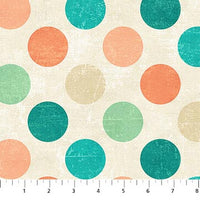 Canvas Spot On - 22606-63 @ $9.00 / yard
Northcott
Canvas Spot On - 
By Deborah Edwards Northcott Studio
Shipping Information
For United States Domestic Shipping:
Standard shipping charges are based on the value of your order with the following rates:
$0.01 - $49.99 = $7.25
$50.00 - $99.99 = $10.95
$100.00 - $149.99 = $13.95
$150.00 - $199.99 = $16.95
Over $200.00 = FREE!.
All Evil Mad Quilter Laser Cut Kits ship for FREE! regardless of cost!
For International shipping (Canada and the rest of the world):
All shipping is calculated based on weight for the carrier you choose.
For all Evil Mad Quilter Laser Cut Kits select "

USPS First Class Package International" 

for the best rate.
How and when will my order ship?
We will do our best to get all in-stock purchases shipped with in 2 days of the receipt of you order.  Our standard method of shipping is with U.S.P.S. Please allow 7 to 10 business days for delivery. 
Depending on your order it ship in multiple packages.   
Canadian and International Shipments: Coming Soon
Returns
Your 100% satisfaction of The Quilt Loft and Evil Mad Quilter products is our only goal.  If you are not happy with any of our products, simply send it back to us for an exchange or refund.
HOW DO I RETURN AN ITEM?
Contact The Quilt Loft / Evil Mad Quilter via email at either:
CustomerService@QuiltLoft.com
and let us know why you have chosen to return an item. This gives us a heads up and allows us to properly prepare your refund or exchange.
       2. Properly package your item for return along with your name, address and a note for the return and send it to:
The Quilt Loft
405 1ST AVE NW
Albany, OR 97321
ATTN: Customer Service
Buyer assumes all responsibility for the shipping cost of returning an item.
Incomplete Products
At The Quilt Loft / Evil Mad Quilter we pride ourselves on accuracy and quality control, but occasionally you may receive a product that is incomplete or missing a part.  Not a problem, we just ask you follow these steps:
Stand up and look around you. Some of the products contain small, light parts that easily fall to the ground or under something near you.
If you still can't find the missing part, email customer service at with a description of the missing item and we'll gladly ship you a replacement.
CustomerService@QuiltLoft.com